► En natt tillsammans med The minute man vid USA:s gräns mot Mexico.
Rapport från bygget av USA:s mur mot Mexico i P3 Planet den 30 oktober 2008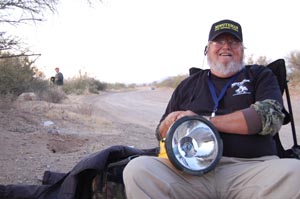 Vid USA:s gräns mot Mexiko samlas de mest patriotiska av patrioter för att bevaka sitt land. The Minuteman är ett medborgargarde som patrullerar öknen natten igenom i jakt på illegala immigranter, knarksmugglare och terrorister – med varierande resultat. Dave Bertrand är chef för självförsvarsstyrkan the minuteman i Arizona…
Reportaget är gjort i samarbete med Mikael Funke.
Alla reportage från reportageresan i Mexico, USA och Guatemala!
[nggallery id=4]